Regular price
$467.00 USD
Regular price
Sale price
$467.00 USD
Unit price
per
Sale
Sold out




THE  NINEBOT MINI PLUS WITH REMOTE CONTROL 
COMPARISON CHART
| | | |
| --- | --- | --- |
| FEATURES | Ninebot miniPRO | Ninebot miniPLUS |
| | | |
| Length x Width | 10.3 x 21.5 in | 11 x 22.7 in |
| Height | 20-34 in (adjustable height) | 24.4 in (non adjustable) |
| Weight | 28 lbs | 35.9 lbs |
| Maximum Speed | 11 mph (18km/h) | 12.5 miles (20 km/h) |
| Maximum Range | 19 miles | 22.5 miles |
| Max. Climbing Angle | 15o | 15o |
| Maximum Weight | 220 lbs | 220 lbs |
| Charging Time | 4 hours | 4 hours |
| Steering Bar | Adjustable steering bar | Fixed steering bar |
| Trolley Handle | YES | NO |
| Dual Motor | YES (400Wx2) | YES (800Wx2) |
| App | YES | YES |
| Remote Control | NO | YES |
| Warranty | 1 year waranty | 1 year waranty |




Step on a Mini Plus without further ado and feel the speed of wind and experience the magic of technology! 
This amazing robot automatically keeps you balanced and reads your movements. Want to go forward? Just lean forward. The high-performance, cutting-edge control algorithm works in tandem with various sensors and advanced processors for maximum flexibility and ease of use. 
Mini Plus can cope easily with all normal road conditions, and will take you up to 35 km* on a journey of fun. 
Go wherever you want whenever you want. 
Explore the wonder of Mini Plus. Let's look for the next fast, fun ride! 
Not only is it four times faster than walking, the Mini Plus is also super stable due to its dynamic balance function - even a 15˚ steep slope or small hump is no problem. 
The advanced configuration yields a powerful engine and a smooth riding experience. 
With the two direct-drive motors generate a total output power of 800 W and an instantaneous power above 2,000 W – almost the same as an electric motorcycle. 
Your phone: the key and your smart assistant manager 
Mini Plus connects to your phone by Bluetooth or The remote controller
Your phone serves as a key - any attempt to move an app-locked Mini Plus triggers shaking, an audible alarm, and an alert that's sent to your phone. 
Basic Information
Product Name: Xiaomi Ninebot PLUS
Product size :about 57.7 cm * 28 cm * 62cm
Model: N4M340
Weight :16kg
Frame Material :Magnesium Alloy highly-elastic frame
Tire size :11 inches
Motor size :6 inches
Battery:42*18650
Max lean angle: >15 degrees
Charging Voltage:Less than 58.8VDC
Top speed: 18 km/h
Typical range: 35 miles
Charging Time: 5.5 Hours
Max Following Speed:12 KM/H
Vacuum Tire: Good grip, Water proof
Woking Temperature:-10℃ - 40℃
Available Working Temperature:0℃ - 40℃
Dynamic Performance:
Maximum speed :18 KM/H
Maximum torque :37Nm * 2
Motor Power :400W x 2
Instantaneous Maximum Power :2500W
Controller
Charging time:Appro 3.5 Hours
Woking time:Appro 9 Hours
Battery capacity:680mah
Working Current:70mA in Average
Charging Voltage:5V
Charing Method:Lithium + USB Charging
Weight :60 G
MAX control Distance:20m
MAX control Speed:12KM/H
Vehicle mode
Riding mode: Riding Scooter
Remote control mode: remote control Scooter
Following Mode: can only be used with the remote control
Pan/ Tilt Camera mode :default / follow / direction lock
Home mode :press the Home button to allow the Scooter to Switch to standby.
Handling mode :When lifting the Scooter, will automatically cut off the power,will automatically resume when it back to the ground.
Power mode :self-balancing state.
Novice mode :the Scooter will impose a speed limit of less than 4km / h before you Before Activated it ; the speed limit will be less than 10km / h after you Activated it; you can just unlock the novice mode after pass the exam as ninebot plus request . you can re-enter this model by app.
Speed mode
1) click speed limit button by app
2) low battery self-protection: it will gradually reduce the speed limit to ensure safety When the power going low . You can see more accurate residuals and possible mileage by APP.
Lock mode
1) Press the shutter button to lock the car (when the PTZ camera is not installed, the shutter button factory default is set to lock the car and unlock the Scooter.) 2) you can lock the scooter by app . when the scooter been connecting to the app . it will be safe .it will be alarm if others touch it . can not lock when riding .
Package List:
1 * Xiaomi Ninebot Plus Self-balancing Scooter
1 * AC Cable
1 * Adapter
1 * Remote Control
1 * Control Lanyard
1 * Control Charging Cable
1 * Foot Controller
1 * Foot Controller Cover
1 * Wrench
1 * Air Faucet
2 * M5 Screw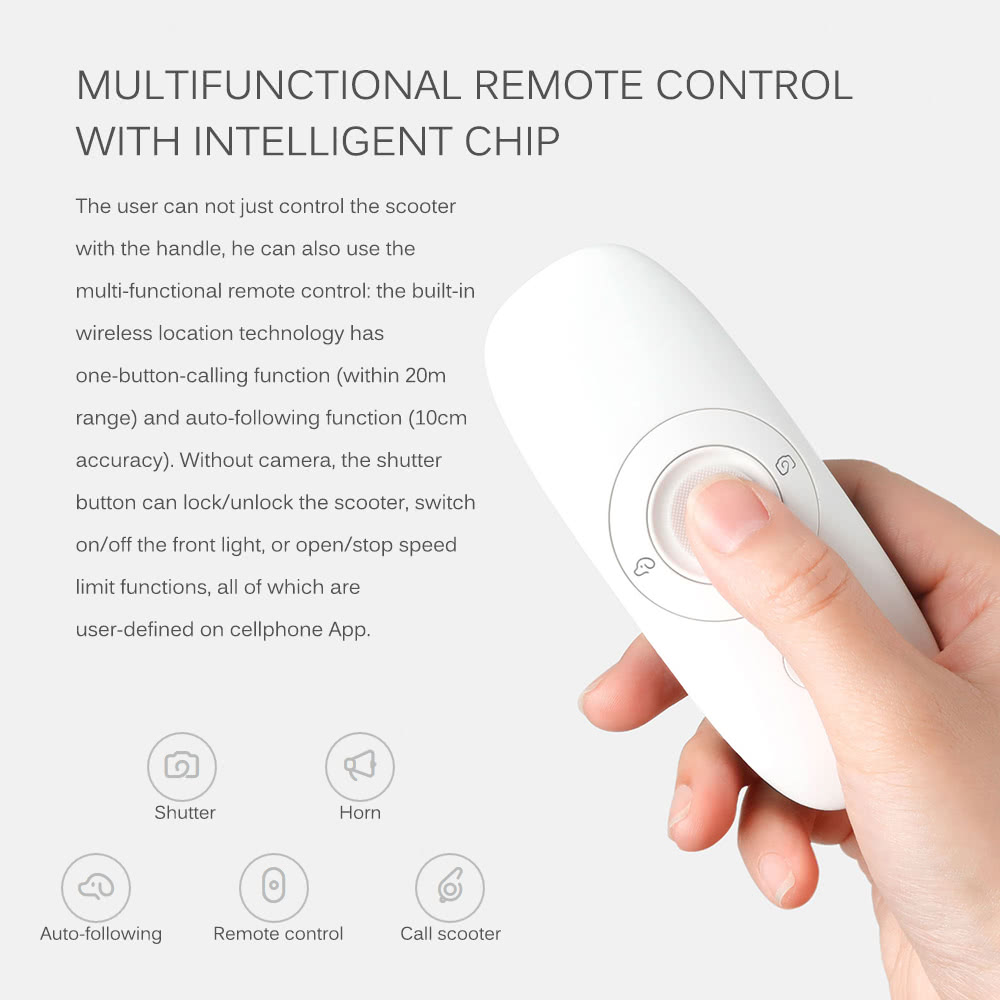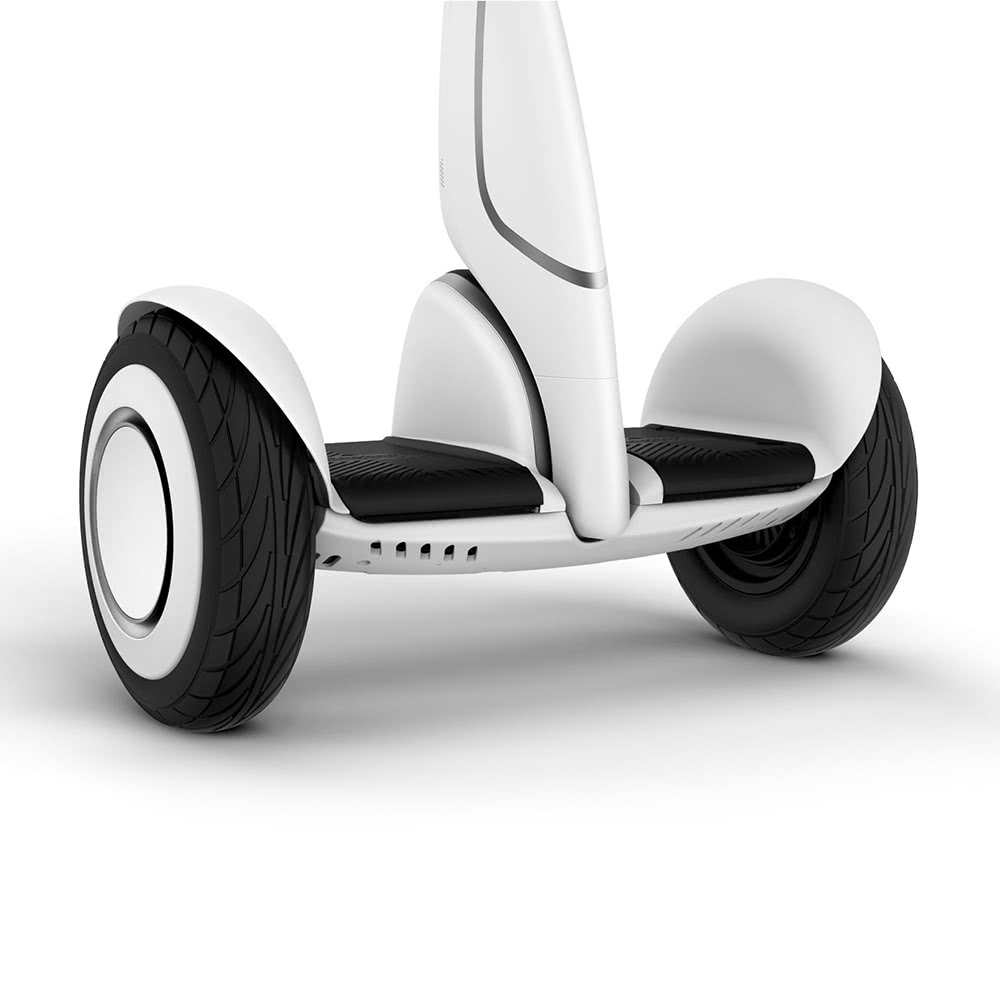 \
View full details